Welcome to Wagoner Roofing
Here at Wagoner Roofing we pride ourselves with providing you the highest quality roofing solutions. We go above an beyond to ensure that your roofing needs are taken care of in a fast and professional manner. We have over thirty (30) years of experience in the roofing industry. We have been providing quality roofs and roofing solutions in both the commercial and residential markets.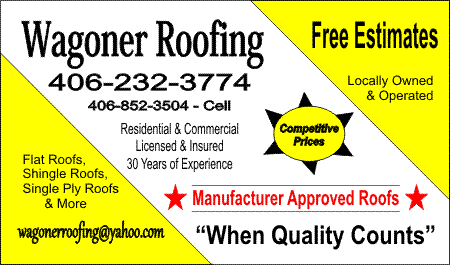 We use high quality materials from manufactures like Durolast, IKO, Pabco, Owens Corning and Metal Sales just to name a few. We are a Duro-Last Authorized Contractor and can provide a 15 year Manufacturer Backed Warranty on our award winning Duro-Last Roofs.
We are a family based business and our family values show in our work. We put our heart and soul into every project. We treat your project as if it was ours and we go by "If it is worth doing, it is worth doing right".
We recognize that the best advertisement is word of mouth and we are now offering $100.00 for referrals. Customers that tell us that they was referred to us must sign a contract for our roofing services and provide the referring individual or Organizations contact information. After the project is competed and paid in full, the referring individual or organization will receive a gift card for $100.00. This is a great opportunity for everyone, especially organizations like high school football, basketball and such programs. For more details on the different ways to refer customers to us, please check out our referral page.